It's no secret that I am a heavy makeup-wearer. So to remove everything that I use daily, here's what I prefer.
Clinique's Take the Day Off Makeup Remover for Lids, Lashes & Lips($17.50). This a remover that you have to shake before you use, and put it on a cotton ball or a cotton round. I use this every day as part of my makeup application. I use it for clean-up under my eyes for fallout. It's great. If I have some particularly tough makeup on I use this, and it does not irritate my eyes and wipes away practically clean in one or two swipes. This will indeed remove tough liquid liner, mascara, and any waterproof products. I am in love with Clinique's skin care because it's scent-free. I'm very picky about smells, especially when they're near my face. I have two sample bottles of this product that I have have since last year, and I haven't gotten through one bottle yet. A little goes a long way with this product, really great.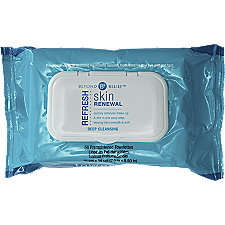 Beyond Belief Facial Cleansing and Makeup Remover Towelettes ($4.99). Pre-moistened deep cleansing towelettes that have a fairly pleasant smell and are great for people with sensitive skin/eyes. They are hypo-allergenic, alcohol free and very affordable. There are 56 wipes in each package. I use these EVERY night. I love them. They don't burn my eyes, they aren't offensively perfumed, and they clean really, really well. It's amazing how much grime these take off of your face. Even when you don't wear makeup. These are super refreshing in the summer time, too.

Clinique's Liquid Facial Soap ($15.00). This is a non-drying facial soap, and is a gentle cleanser. I will admit that I have only used this a handful of times, but each time it's been fantastic. I have rather dry skin, so that's why I was hesitant to use it. When I hear "facial soap" my brain automatically thinks of how my skin feels after I wash my face with bar soap -shudder-. But this, this is a totally different animal. My face feels amazingly silky and moisturized after using this. I didn't experience any tightness or redness with this. I use this after I use my Beyond Belief Towelettes (Because ideally you should wash your face twice, once to get the makeup off and again to get any dirt and residue off) Again, I have a sample tube of this, but when I run out I will gladly repurchase!
If I find anything new, I'll certainly keep you updated!!