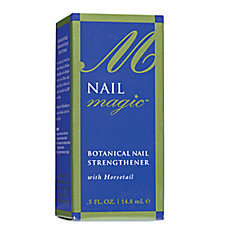 Nail Magic Botanical Nail Strengthener with Horsetail is a new addition to the Nail Magic line by Haken.
"An intensive treatment containing horsetail, a healing herb rich in nutrients that work to make the natural nail stronger and assist in promoting healthy growth"
I'll say! I love this stuff. I've been using this for a few months now and I have had great results from it. I use it as a base coat for my polish, and sometimes use it under the free edge of my nail. I paint my nails twice a week, or so. So that goes along with the instructions of using it two to three times a week.
The full instructions read: "Apply one coat on a clean, dry nail 2-3 times a week for the first two weeks. You do not need to remove the old coat during this time just apply the new coat over the existing coat. After two weeks remove original coats and repeat the application process."
I don't follow this to a T, but like I said, I use this as a base coat and it works wonders. My natural nails are very flaky, they peel, crack and break at the drop of a hat. Since I've been using this under my polish I haven't had nearly as many issues. You can of course follow the instructions exactly if you aren't a polish wearer and just want something to maintain your totally natural nails.
Give it a try if you have nails like mine were!